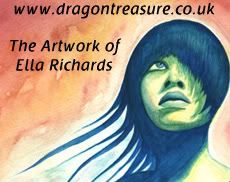 Hello DA People, how I have missed you!
I can't quite believe my last journal was over ten months ago, eek! It's been a busy year.
I'll recap quickly: Last October I embarked on a large commission for some friends who wanted me to paint their two daughters in a fantasy style. I began the painting during October half term and worked on it predominantly during school half terms and holidays, plus the occasional weekend.
2011 turned into 2012 and wedding planning became the priority. Whenever I could I carried on with the final
'E. Richards'
masterpiece! This was the final result:
I won't put a long-winded description on here, however if you are interested in reading more about this piece, please follow the link to my blog post about it here:
www.dragontreasure-art.blogspo…
I also made a video of the painting process and took WIP photos the whole way through, which I incorporated into a video. You can check it out on youtube here:
www.youtube.com/watch?feature=…
So... April bought new beginnings when my love
~
HotRodZombie
and I finally tied the knot after 17 years of knowing each other! (Took us a while but we got there in the end!) It was a beautiful day and signified my change of name... A strange feeling to have a name for 32 years and then have to get used to a new one! I am however, very proud to become Mrs Hayward and look forward to developing my new artwork with a new signature. Lets see what Hayward masterpieces I can create

Here are some of the photos from our magical faerytale wedding, which were captured beautifully by the incredibly talented
~
Veganvictim
who incidentally I have DA to thank for finding. You see, he and I became friends on here many years ago, met one day in London and formed a fantastic friendship. I feel very priviledged to know him and it was amazing that he played such an important part of our day.
So what now for the Pixie-Queen?... Well, we are off on honeymoon to Thailand soon, so no doubt I will come back with some new artwork and inspiration. I also have to say, that although I never intended to be away from DA for so long, just this evening, sitting here reading through my messages I am so inspired by all the amazing work which artists continue to produce on this website. It is such an inspiring community with so many wonderfully talented people. I will be doing a journal soon to pay some respects to the fabulous work on here.
Last but by no means least, thank you so much to everyone on here who continues to watch my gallery, leave me lovely comments (plus constructive feedback) and those of you who fave my work. When I joined DA I made a point of answering every single message and replying to all who faved my work. I simply can't do that any more as I'd be sitting here all summer! So - please accept my grateful appreciation. I always enjoy reading your comments.
Wishing everyone a fabulous summer holidays x
===========================================
===========================================
~
pixie-queen-stock
===========================================